19 Best US Towns For Expansive Mountain Views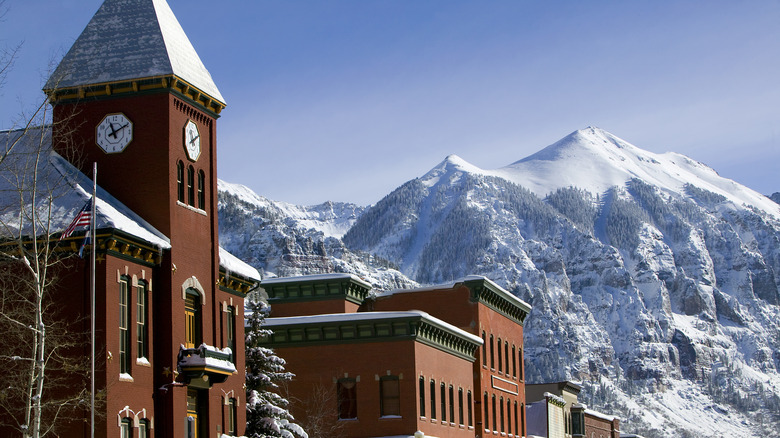 Dougberry/Getty Images
The U.S. is known for its beautiful landscapes and is full of amazing towns with incredible mountain views. From coast to coast, from the Midwestern plains to the deep South and everywhere in between, there's no shortage of natural scenery to appreciate. So it's no wonder that it can be tough to decide where to visit for the best mountain views. 
We've rounded up the 19 best vacation spots in the U.S. if you want to enjoy expansive mountain views, fun activities, and great cuisine, no matter the season.
Vail, Colorado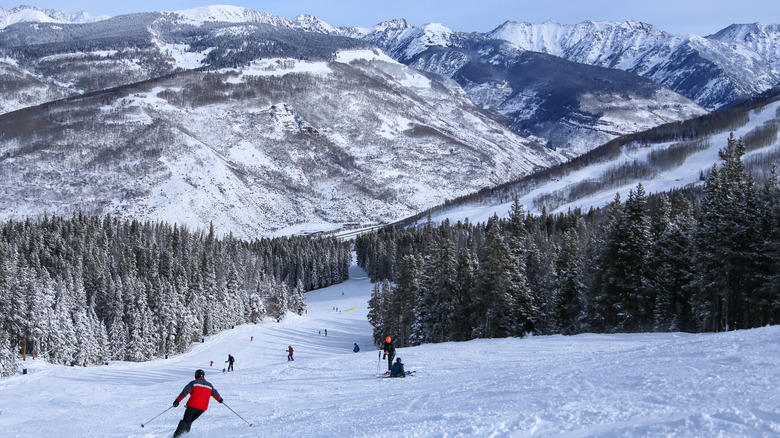 Steve Boice/Shutterstock
Long known as a great ski destination, Vail is easily one of the most beautiful mountains in the Rockies. It's also one of the largest single-mountain ski resorts in the nation, with the highest proportion of high-end restaurants, spas, and shops. This variety makes it a great place for all types of winter sports enthusiasts, as the town has long been known for inclusivity. It was the first ski area to welcome snowboarders way back in 1987. For those who are at a more beginner level, one of the largest ski schools in the country is onsite, offering private and group lessons.
However, even for those who don't want to hit the slopes in any form, Vail has plenty to offer. You can rent snowshoes, go snowmobiling, or relax at one of the many spas or lodges. There is plenty within walking distance, as it's less an old-school ski town and more a storybook village. You'll rarely need to hop in your car to reach a bar, restaurant, or store. Depending on traffic and the time of year, Vail is roughly a two-hour drive from Denver International Airport.
Asheville, North Carolina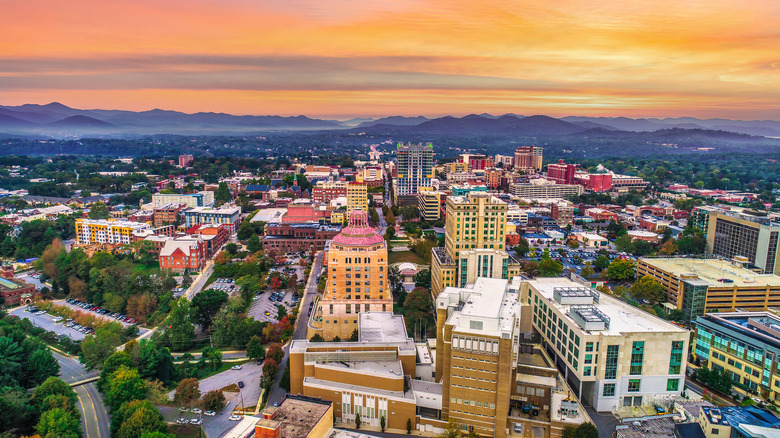 Kevin Ruck/Shutterstock
John Denver might have been singing about West Virginia, but Western North Carolina has the cutest town for views of the Blue Ridge Mountains. A quirky and truly interesting place, it's like a smaller, quainter, and frankly, better version of other American cities. The downtown core is full of Art Deco, Beaux-Art, and Art Nouveau architecture, but unlike Miami, this city is very walkable. Asheville is also known as an artist's haven, with a riverfront Arts District full of galleries and workshops, perfect for an afternoon wander. And don't miss the Biltmore Estate, built by George Vanderbilt himself and a great location to spend the day.
Similar to PNW cities, there are countless breweries in town, no shortage of hikes and water activities nearby, and numerous fun bookstores to browse. However, this southern, mountainous destination is still quaint and weird, like what Seattle, Portland, and Austin were before they expanded and changed so much. It's a great weekend (or weeklong, there's no shortage of things to do) getaway throughout the year. You'll always be able to find something going on or somewhere welcoming to spend the day, and you'll likely see that Southern hospitality is alive and well in Asheville. There is a small regional airport just outside of town, otherwise, Charlotte is a couple hour's drive away.
Park City, Utah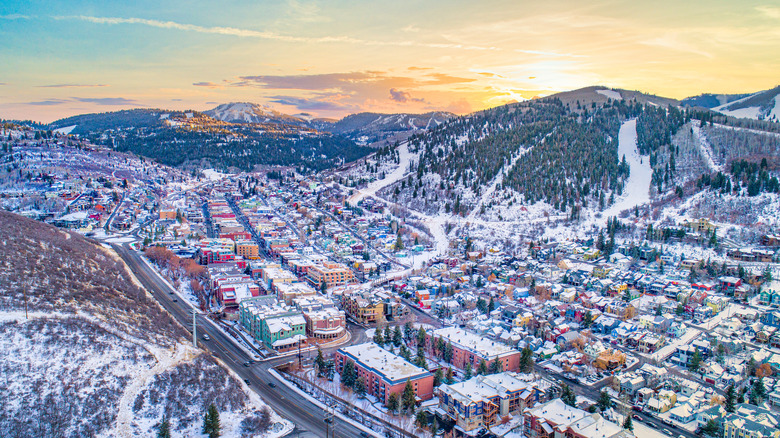 Kevin Ruck/Shutterstock
Another well-known ski destination on this list, but even if you're not much for hitting the slopes, this beautiful former mining town set against the Wasatch Mountains has plenty of activities and relaxation options! For those snow-inclined, there are two main options; Deer Valley Resort, which is ski-only, or Park City Mountain, which also welcomes snowboarders. The latter is owned by Vail Resorts and thus has many amenities, including a fantastic ski school and many high-quality spas.
Additionally, there are plenty of trails and runs to snowshoe, hike, and inner tube. And don't miss the Alpine Coaster — a roller coaster amongst the mountains! The town maintains a cute Old West feel and you can explore the history at the Park City Museum or on a walking tour. And you'll never be far from a glimpse of the surrounding peaks. The public transport is also surprisingly efficient and free, from a downtown trolley to many hotel shuttles and buses. Park City is just a little over half an hour from Salt Lake City and there's a regular bus between the two.
Leavenworth, Washington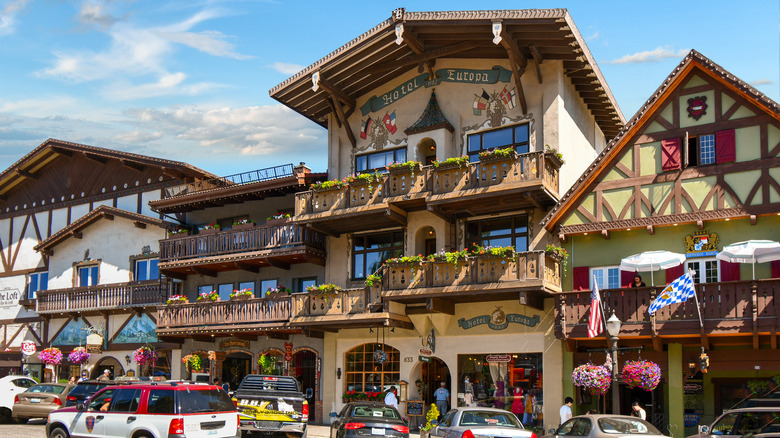 Kirk Fisher/Getty Images
Often referred to as one of the best European look-alike towns in the U.S., Leavenworth is more than just a winter Christmas village. Set amongst the Cascades, you're never far from a feel of magic here. The town is full of fun festivals no matter the season. In winter, you can enjoy trails right near the center, go for a hike, or try snowshoeing, sledding, cross-country skiing, or snowmobiling. Or just enjoy the snow globe atmosphere made possible by Alpine weather, holiday lights, and the annual Christmas Markets on Thanksgiving weekend. 
During the spring and summer, the Enchantments are open for hikers and campers looking for an adventure. And every fall, just like in Bavaria, is Oktoberfest. If you're looking for some animal therapy, the local reindeer farm is always open to visitors and the neighborhood goats on the mini golf course can be seen from the walkway above. For travelers arriving from further afield, Leavenworth is two to three hours from Seattle-Tacoma International Airport. You can also take Empire Builder Amtrak in the direction of Spokane/Chicago, which runs twice daily from Seattle.
Big Sky, Montana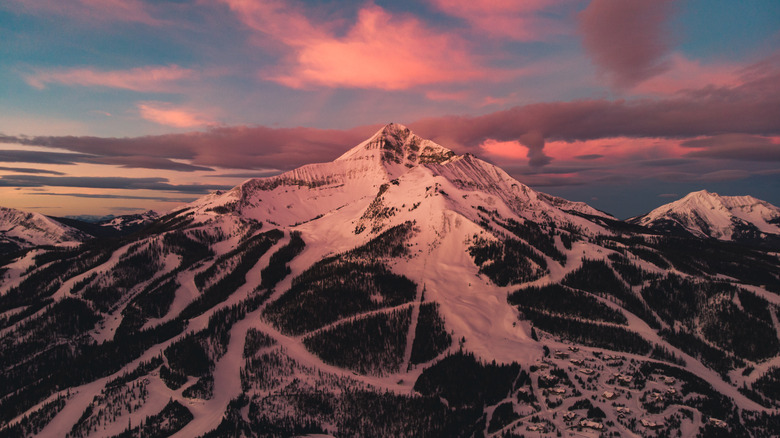 andypottter/Shutterstock
The village that gives the state its nickname sure lives up to it, with wide open skies that make the area apt for stargazing and spotting the Northern Lights. This also means the numerous mountains surrounding the town; the Madison Range, Spanish Peaks, and the Gallatin Range are full of seasonal activities. Of course, it is one of Montana's top ski destinations, but there is plenty else to do in Big Sky. Notably, as the town's popularity has risen, options for aprés-ski activities have also grown and become much fancier than the area's origins. The area is still mostly free of the glamor and gold of Colorado ski towns (for now.)
Mountain Village and Meadow Village are the primary ski areas and where most lodging and dining options are located, with some scattered along the river in between. There are also many ski-in, ski-out options, making the area an ultimate winter getaway. Sleigh rides, winter hikes to frozen waterfalls, and even a trip to Yellowstone National Park are all easy off-slope options. Bozeman Yellowstone International Airport is a little under an hour's drive from the town.
Jackson Hole, Wyoming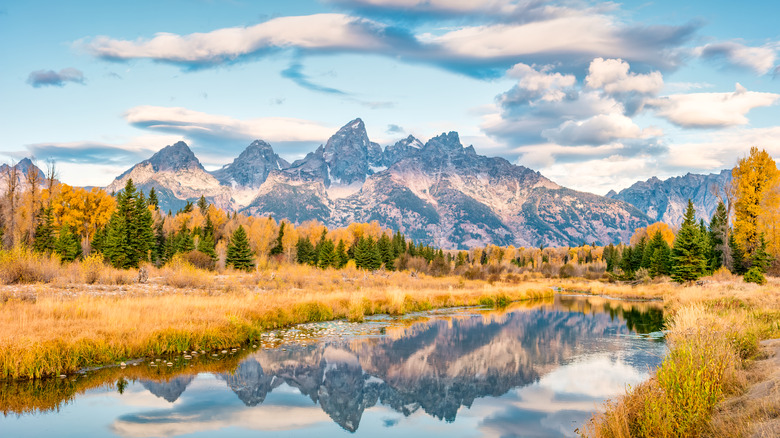 Benedek/Getty Images
Best known for its proximity to Yellowstone National Park, Jackson Hole is also very close to the Grand Tetons — perfect for a beautiful skyline view from your cabin. In fact, "purple mountains, majesty" might have very well been describing the view from Jackson. Paddleboard on the lake or hike around it and enjoy views of the close-by peaks. Or perhaps attempt the Via Ferrata, a rock climbing route that allows you to scale the mountainside. Once you've had your fill of adventure, cute boutiques, cafes, art galleries, and more await you in town.
If you do go in winter, note that the Jackson Hole Resort is considered one of the most difficult mountains in the U.S. So while it'll be fun for the experienced skier, maybe consider other activities if you're a newbie. Off-season, fall and spring can be nice for a less-crowded option with lower prices, but many things may be closed. Still, it's worth considering if you want a calmer experience of the neighboring parks and don't care too much about specific seasonal activities. Jackson Hole has its own regional airport with many daily flights.
Aspen, Colorado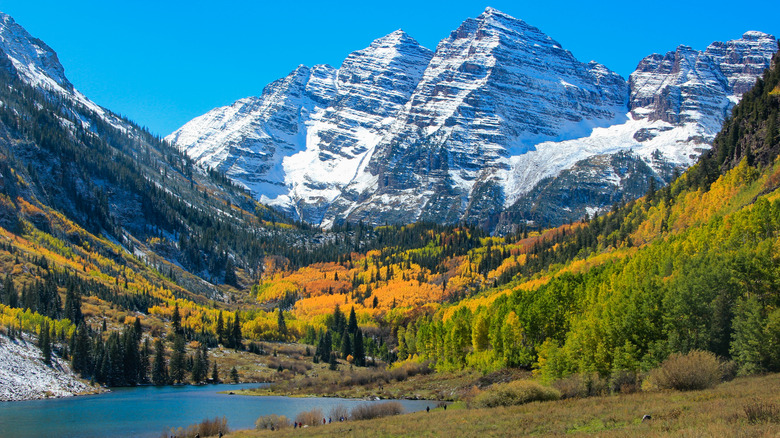 liyang0518/Shutterstock
Another quintessential Colorado mountain town, Aspen is the ultimate Rocky Mountain getaway. It is also an absolute paradise for hikers during the summer, with seemingly endless trails to explore. The routes will take you through wildflower-filled valleys, verdant forests, and sweeping mountain passes, many with views of alpine-blue lakes. If you want to try an activity that doesn't require the limitations of two feet, hit the road on a bike or the trails on one made for the mountains! Additionally, fishing and horseback riding are also popular during the warmer months.
And if you're less of an outdoors person, the small city is full of upscale properties, luxury spas, and if you have connections — fabulous parties. There is also no shortage of amazing spas to be enjoyed after a long day of shopping at the boutiques and art galleries in town. Denver International is between two and a half to three hours away, although Aspen does have a small regional airport as well.
Stowe, Vermont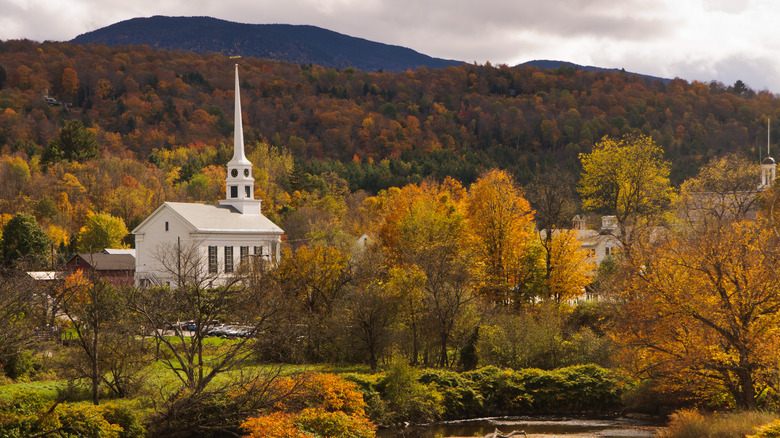 Kenwiedemann/Getty Images
The East Coast might not have the likes of the Rockies, Cascades, or Sierras, but Stowe, located between the Green and Worcester mountain ranges, is a great place to enjoy the best of the New England countryside. The best time of year to visit isn't winter (although for East Coast skiers and snowboarders, it's one of the best options that doesn't require traversing the country), but rather autumn.
Fall foliage is famously legendary in this part of the U.S., and this Vermont town makes for a wonderful base to enjoy it. Go for a hike among the colors, enjoy one of the many scenic drives in the region, or go zip-lining for a different leaf-peeping experience. When you're tired out from all the recreation, hit up one of Stowe's breweries, bakeries, or coffee shops for a refresher.
Sun Valley, Idaho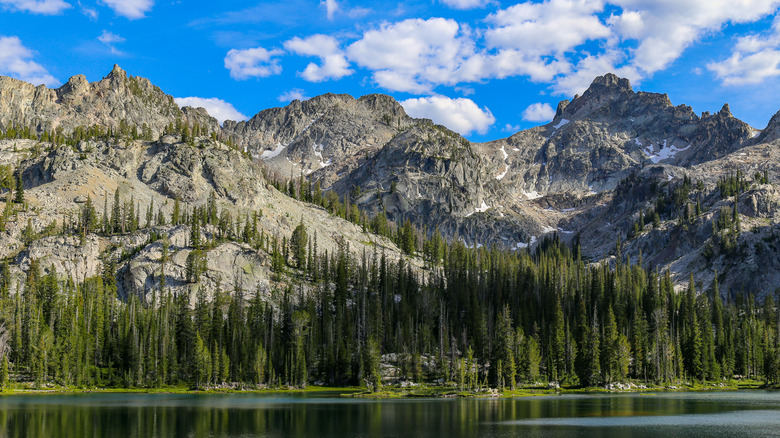 CSNafzger/Shutterstock
A favorite ski resort among those out West (and those from further afield who don't mind a bit of a journey), Sun Valley is nestled among Idaho's Smoky Mountains. The village might be best known for activities in the surrounding nature, but the best-kept secret is that it makes for a fantastic wellness destination. Not only do spas dot the center, but yoga and pilates studios seem to pop up constantly. 
Additionally, the city is full of great smoothie bars, cafes, and new vegan and vegetarian restaurants. The Sun Valley airport is serviced with numerous flights every day. Alternatively, Boise International Airport is roughly a two-and-a-half-hour drive away.
Juneau, Alaska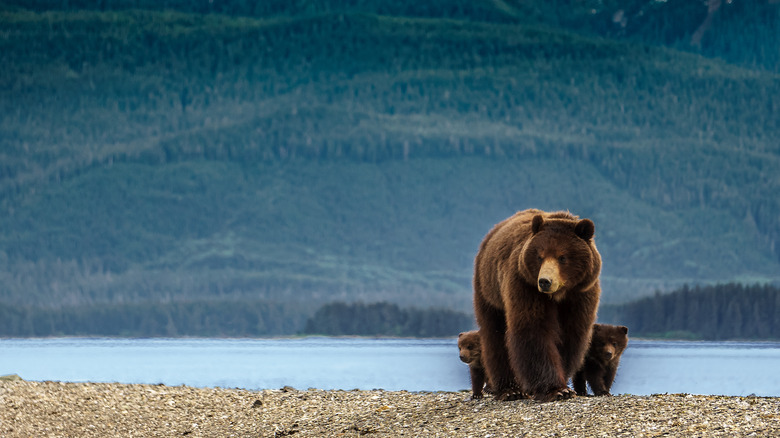 shorex.koss/Shutterstock
Southeastern Alaska's biggest city is set against the breathtaking Coast Mountain Range — which makes for picturesque views year-round. In fact, one of the best sights, the Mendenhall Glacier, is also one of the top activity destinations in Juneau. You can go for a hike where you'll explore the ice caves and in winter, take a dogsled trek across the glacier. You can also climb Mount Juneau, a three-mile round-trip hike where you'll be rewarded with expansive views of the water and neighboring peaks. Alternatively, you can take the Mount Roberts tramway, and enjoy a loop hike at over 1,700 feet.
The nature around Juneau is also a hotbed of wildlife activity, with bald eagles, bears, whales, sea otters, orcas, sea lions, goats, deer, and marmots regularly spotted. In fact, the surrounding wilderness is home to some of the highest numbers of brown bears in the state. Two quintessential Alaskan experiences you shouldn't miss are a fishing trip, as it's quite easy to charter a boat from the port, and a scenic road trip among the Old Glacier Highway. One of the more unique activities you can try is panning for gold. Tours run daily where you'll learn about the history and even get to try it yourself! Don't expect to find any get-rich-quick nuggets, but a few small flecks will give you just a taste of what they used to do back in the day.
Bend, Oregon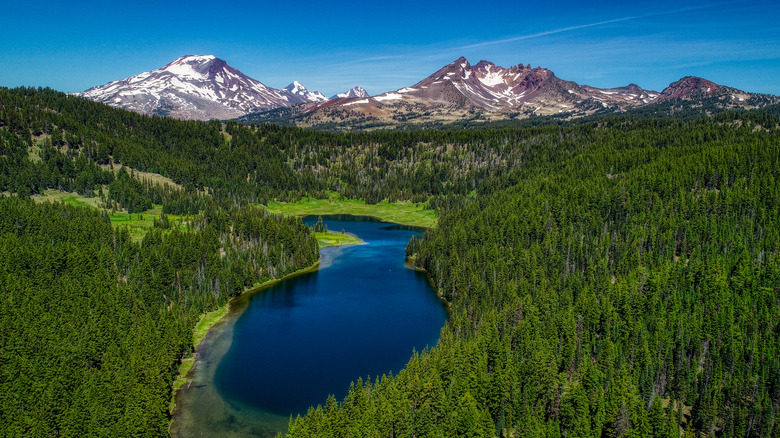 Cascade Drone Photography/Shutterstock
On the edge of the Cascade Mountains lies Bend, a quintessential Pacific Northwest mountain town. You can hike, bike, and ski and then enjoy one of the area's numerous breweries or riverside pubs. Bend is home to a huge craft beer scene that you definitely won't want to miss. 
One of the more unique things to visit in the region is the Lava Lands National Monument — created 7, 000 years ago after a volcanic eruption. The park was used in the 1960s by NASA to train astronauts because it was deemed the closest equivalent of the moon in the U.S. Today, you can hike a short, 1-mile-long Trail of Molten Lava that provides a good overview of the landscape. Or, opt for a longer bike ride with the same, great views. 
Deadwood, South Dakota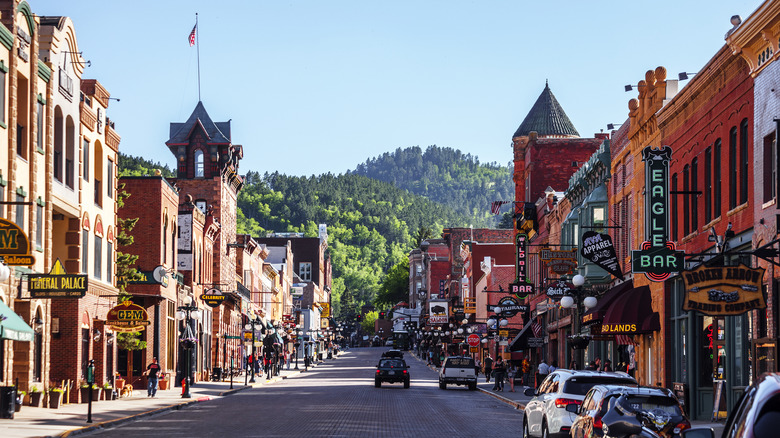 Peeterv/Getty Images
Deadwood is mostly known as a "cowboy town" where you can relive the glory days of the Gold Rush. The Black Hills, imposing mountains that overlook the village below, are never far from view from any street. There's plenty on offer to keep you busy, including a live-action show, "Deadwood Alive" that portrays life back in the Wild, Wild, West days in the streets and shops of town. 
Another fun activity on offer is ghost tours of old hotels and towns, opt for an evening version for extra ambiance! You can even visit the Broken Boot Gold Mine and try your hand at searching for gold. Rapid City Airport is the closest major airport and is about an hour's drive away.
Lake Tahoe, California/Nevada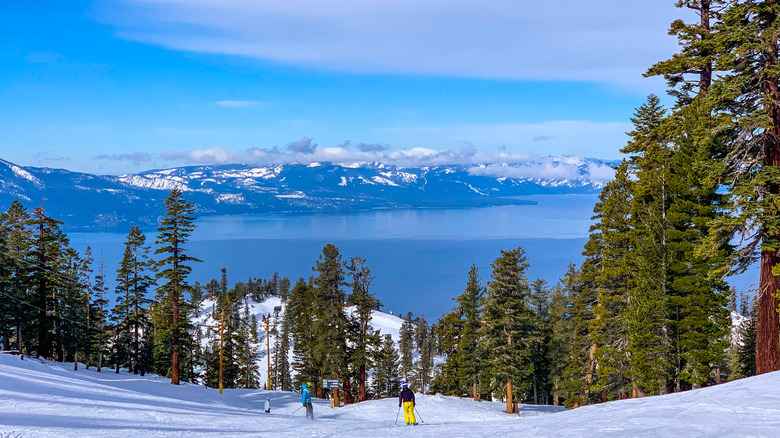 Alisa_Ch/Shutterstock
Between the Sierra Nevadas and the Carson Mountains lies Tahoe, the preferred mountain escape of Bay Area residents. The skiing is some of the best in California and with numerous resorts on offer, you're bound to find one that works for you and/or your travel companions. As far as resorts go, Heavenly (in the south) and Homewood (in the north) have the best views of the lake. Additionally, Northstar is great for families and Kirkwood is great if you want a quieter escape.
Remember that the lake is massive, 72 miles around, so you should choose one area, North or South Tahoe to focus on for your trip. Even then, a resort in the south can still be a drive away from another in the same part of the lake. There are also numerous breweries, distilleries, and restaurants on the lakeside to relax at after a day on the slopes. Tahoe is between three-and-a-half to five hours from the Bay Area, depending on traffic, which is famously awful during weekends in winter.
Sitka, Alaska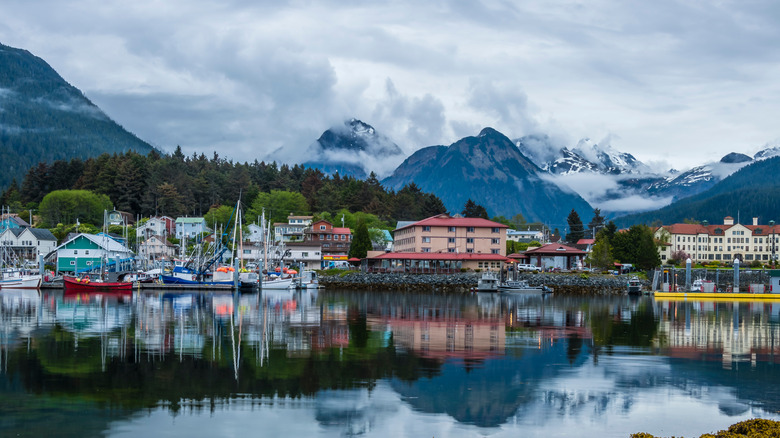 Jnjphotos/Shutterstock
If you've watched "The Proposal" with Sandra Bullock and Ryan Reynolds, you're somewhat acquainted with Sitka. Although the movie wasn't actually filmed in Alaska (rather in Rockport, Massachusetts), the scenery recreated for it is spot on. Surrounded by over 80 peaks, including Mount Edgecumbe, a dormant volcano, there are plenty of outdoor activities to keep visitors occupied throughout the year.
The most exciting part about Sitka though, is the unique history the town tells. Few know much about Russian colonization in North America, but here you'll find plenty of information on the topic. You can wander the numerous trails at Sitka National Historical Park, just outside the city. The park also houses the Russian Bishop's House, one of the oldest leftover structures from the country's attempt to colonize the area. The building served as a church when attempts were made to convert Alaskan natives, an orphanage, and now a museum where you can learn about the impact that period had on the region.
Taos, New Mexico
Nick Fox/Shutterstock
The Sangre de Cristo Mountains are a beautiful site to see from Taos. The main draw of this New Mexican gem though is the rich history. Home to Taos Pueblo, or Taos Town, one of the oldest communities in the country, and a UNESCO World Heritage site, it's worth a trip on its own. The buildings date back to the 1300s, are made in the traditional style and out of adobe, and do not have water or electricity, to maintain the authentic look. 
Today you can take a guided or self-tour of the pueblo, meet some of the residents (parts are off-limits since people still live there), and learn more about the area's past. There are precise rules regarding photography, so make sure to be respectful. To get to Taos, fly into either Sante Fe or Albuquerque, each between an hour-and-a-half and two-hour drive.
Snoqualmie, Washington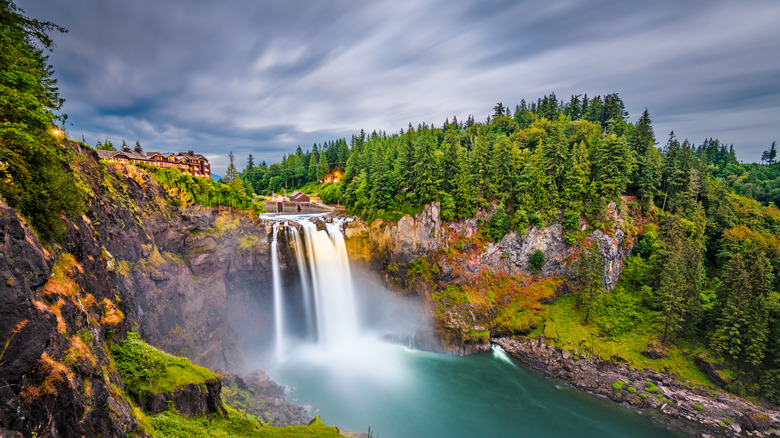 Sean Pavone/Shutterstock
Home to Washington State's largest waterfall, and one of the largest in the country, Snoqualmie is a favorite weekend escape among Seattleites. Situated in the heart of the Cascades, it's the ultimate outdoor destination no matter the season. Beyond typical PNW activities like skiing and hiking, the town offers an off-beat thing to do that you won't find elsewhere in the area.
Visit the Northwest Railway Museum to learn about the trains of the region. You can even ride historic steam locomotives right from Snoqualmie (or nearby North Bend), just be sure to book ahead of time as spots fill up quickly, especially in summer. Snoqualmie is located just 30 to 40 minutes from Seattle, traffic pending.
Bar Harbor, Maine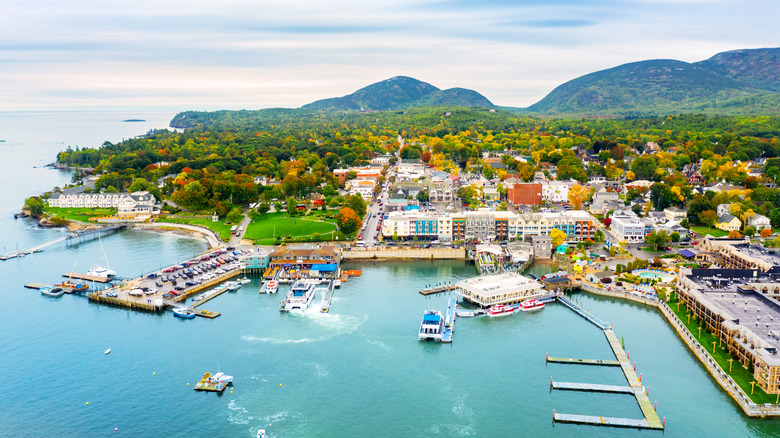 Mihai_Andritoiu/Shutterstock
This Eastern coastal escape is conveniently located near Acadia National Park and the Cadillac Mountains. It served as one of the preferred escapes from the city for the extremely wealthy back in the 19th century (as in the Carnegies and Vanderbilts) and it maintains its status as a popular vacation destination for urbanites. Food is one of the main draws, as most will come from the literal backyards of the area. From lobster to oysters to blueberries and chowder, it's easy to eat locally in Bar Harbor. 
The town also tells a fantastic story, from two Abbe Museums that feature exhibits and information on the Wabanaki, Maine's native people. For a more active experience, there are also ghost tours on offer. Portland International Jetport is located about three hours away.
Mount Shasta, California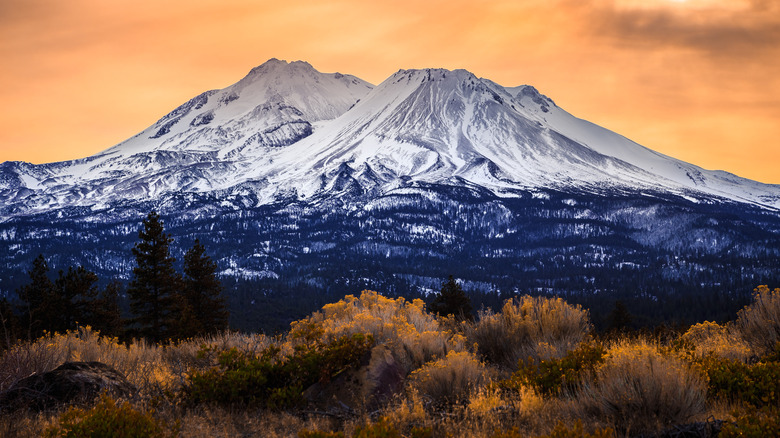 Stephen Moehle/Shutterstock
Once a thriving gold-rush-era town, Mount Shasta began to decline once the railroad bypassed it in favor of Redding. Today, it makes for a great weekend escape from the Bay Area, or for those coming from further afield. The mountain (part of the Cascade range) at which the town sits at the bottom, provides numerous opportunities for recreation. You can hike all over (including a section of the Pacific Crest Trail), enjoy picnics or swim at one of the many lakes, or marvel at one of the cascading waterfalls along the way. 
And don't miss out on the area's reputation as a spiritual center (similar to Sedona) as the mountain has long been believed to have healing powers. Additionally, the town center is full of crystal shops, tie-dye stores, healers, and of course, the Mount Shasta Peace Garden.
Bozeman, Montana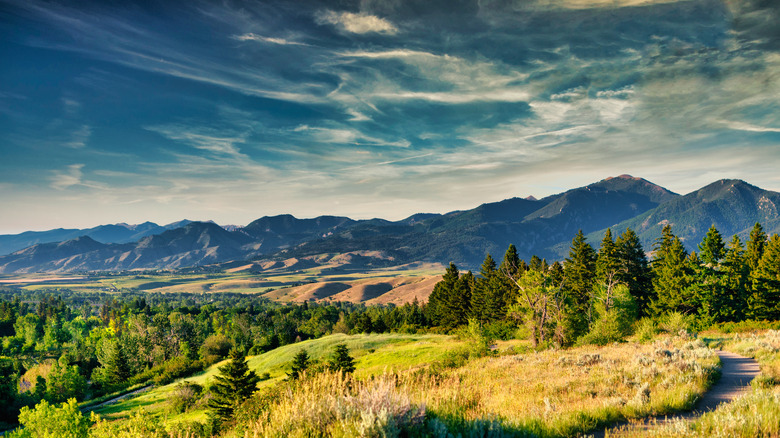 Lisa5201/Getty Images
Made famous by the hit "Yellowstone," Bozeman was already popular among the outdoors-minded and has only grown so. These days, the city has undergone a renaissance and is full of trendy cafes, bars, and antique shops. The changes of the years haven't always been welcome (as depicted on the show), but in general, Bozeman has a great entrepreneurial feel among residents. 
Whether they're opening a new boutique or gallery, or craft beer pub. And if it starts to feel a bit too city for you, the mountains aren't far away.